1972
Built from Bell Woodworking kit.
2007 ?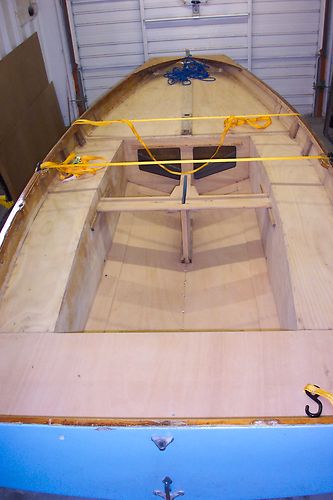 Exact date unclear, but prior to 2009 Ian Tomlins replaced and strengthened the cockpit floor, repaired the transom, renovated, revarnished and repainted the whole boat.
2009
Purchased by Stephen Lenney of Restronguet Sailing Club
2010
Upgraded to race specification as follows
Fitted with Z-Spars Bermuda mast and boom
Fitted with Flyaway spinnaker pole system
Kicking strap upgraded to 4:1 and lead aft via ball bearing blocks to cleats mounted on custom alloy plates below aft edge of thwart (both sides)
Fitted with centre mainsheet with custom made stainless steel plate mounting for ratchet block and custom boom sleeve
Jib sheeting moved onto thwart with cleats on custom sloping blocks
Custom made lightweight spinnaker chute (laminated pine & mahogany) with custom made sock.
Hole in skeg filled in
New sheets, halyards and lines throughout
repainted and revarnished
2011
Sailed Restronguet Club Racing and Race Training
Sailed in UK National Championships
2012
This boat was advertisted for £1,000, details were
Extensively upgraded in recent years (see history above)
Repainted and revarnished spring 2010 and lightly sailed, hence in excellent condition.
One suit Holt sails (OK for cruising/training)
One suit of Speed racing sails in reasonable condition
Two spinnakers (one in fair condition and one in good)
Self bailer
Custom made frame which goes under the full cover to allow storage outside.
Boom up cover in great
Flat trailing cover in great condition
Custom made carbon fibre tiller extension
Current Measurement certificate.
Old but serviceable combi trailer (not galvaised) and trolley with light board (we normally put mast on roof rack). Trailer could do with a paint at some point but the advantage of this boat is in the great condition of the hull, the mast and race set up where some other have a great trailer but poor condition boat...Just being honest as great trailers do not go fast on the water!
All in all a great intro to race package which is only for sale to allow the purchase of a GRP race boat for the European race championships. She is a great boat which needs nothing really doing for this season. Viewing welcome but you will fall in love with her. Open to sensible offers but please accept this is not a run of the mill boat its had a small fortune spent on it.
Any questions, please email Stephen Lenney This email address is being protected from spambots. You need JavaScript enabled to view it. or phone 07931347896, Near Falmouth, Cornwall.
It was sold in early March, the new owner lives on the South Coast.